Supported Charities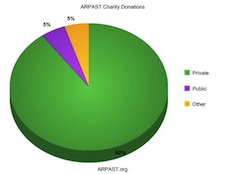 ARPAST strongly believes in and supports several charity initiatives. Many people who have found it difficult to find time to participate in ARPAST events can still help us raise money by being a sponsor. Please go to our donation page to learn how you can take advantage of our many sponsorship opportunities.

Below is a list of the organizations which we proudly support.
Arkansas Children's Hospital Foundation


The separately incorporated Arkansas Children's Hospital Foundation is the fundraising arm for Arkansas Children's Hospital and its related institutions, including the Arkansas Children's Hospital Research Institute. Since 1982, the Foundation's mandate has been to support the needs of Arkansas Children's Hospital, enhancing patient care, research, recruitment, education and outreach. We share a common purpose: "Making friends and raising funds" to help sick children get better.

St. Jude's Childrens Research Hospital


St. Jude is unlike any other pediatric treatment and research facility anywhere. Discoveries made here have completely changed how the world treats children with cancer and other catastrophic diseases. Where no one pays for treatment beyond what is covered by insurance, and those without insurance are never asked to pay. During the past three years, 85 percent of every dollar received by ALSAC/St. Jude has gone to the current or future needs of St. Jude.

Stepping Stones Nigeria


Stepping Stones Nigeria works in partnership with local organisations in the Niger Delta region of Nigeria to build sustainable futures for some of the region's many disadvantaged children. Our approach focuses on four main areas: street children, education, literacy, advocacy and campaigning. We work with fantastic organisations such as the Stepping Stones Model School and the Child Right's and Rehabilitation Network (CRARN) to provide education and rehabilitate children who have been abandoned due to witchcraft stigmatisation.

Adopt-a-Native-Elder Program


The Adopt-A-Native-Elder Program exists to create a Bridge of Hope between Native Americans and other cultures. It allows us to reach out to one another, share our gifts, and mend the broken circle of our relationship with the Land and the Native Americans who hold it in sacred trust. The Program provides food, simple medicines, clothing, fabric, and yarns to help these Elders live on the Land in their traditional lifestyle. As they have become elderly, it has become more difficult for them to support themselves on the Land in their traditional ways.
---