SFC Museum Workshop/Conference
Come join ARPAST with our friends from the St. Francis County Museum and PRUPH as we bring one of the most anticipated events to the central Arkansas area!
If you cannot physically attend the event, (we will miss you!)  be sure and watch the official ARPAST Twitter page as we will be twittering throughout the night!


Download our promotional flyer for the event by clicking here (PDF).

Have you ever been curious about the paranormal?

Want to network with other like-minded individuals?
Would you like to attend a real investigation with a TAPS Family group of TV's Ghost Hunters fame?
Come join us on Saturday, July 11th from 4pm - 2am at the historic St. Francis County Museum in beautiful Forrest City, Arkansas (603 Front Street).
Best selling author Larry Flaxman and the ARPAST team will be on hand for a night of education, fun, and "ghostly" hijinks. DON'T MISS IT!
Tickets are $25 which includes dinner, all presentations, and the investigation. All monies raised are TAX DEDUCTIBLE and 100% will be donated to the museum!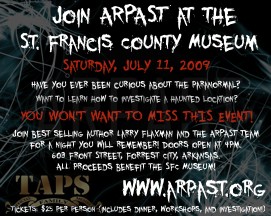 4:00 Welcome / meet & greet
4:15 Museum Tour
5:00 Dinner (included in your ticket price!)
6:00 Workshop - "The Technology of the Paranormal"
7:15 (break)
7:30 Workshop - "Equipment Use"
8:15 (break)
8:30 Workshop - "EVP - Electronic Voice Phenomenon"
9:45 (break)
10:00 Begin setup for investigation
11:00 Investigation begins
Download our promotional flyer for the event by clicking here (PDF).

---