PSIence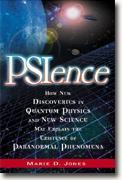 Title: PSIence
Author: Marie D. Jones
Reviewed by: Douglas R. Cobb
"Sit down before fact as a little child, be prepared to give up every preconceived notion, follow humbly wherever and to whatever abysses nature leads, or you shall learn nothing.
— Thomas Henry Huxley

What do ghosts, UFOs, ESP, and places like the Bermuda Triangle have to do with quantum physics and string theories? How can explanations of paranormal phenomena coexist alongside of the latest scientific theories and be supported by them? The answer to the first question, it turns out, is a LOT, and the answer to the second one is "Quite well, thank you very much!" In her book PSIence, Marie D. Jones explores and encapsulates those paranormal phenomena (and many more) then goes on to describe in terms easily understood by laymen several of the current prevailing theories about quantum physics, the Big Bang, the Zero Point Field (ZPF), and the possibility that there is not one universe, but rather are multiverses that coexist side-by-side.

I am a skeptic; it's best to take almost everything you read or hear with a spoonful of salt, if not an entire shaker's worth. But I am an open-minded skeptic who is intensely interested in reading about a multitude of subjects, including paranormal phenomena. There are fakes and purveyers of B.S. aplenty in this world (though Jones isn't in this group, using rational thinking and reasoning to present her arguments), but enough sane, intelligent people with nothing to gain have experienced strange things in their lives, such as déjà vu or ghostly or alien-type encounters to make me believe that not all paranormal phenomena has its roots only within people's minds. What is physics and most of science itself, if not theories? As Joshua Warren, a ghost-hunter the author mentions who tries to be very methodical and use a scientific approach in collecting and analyzing data puts it: "Scientists who don't understand the paranormal don't understand science."

PSIence begins by discussing various paranormal phenomena before getting into the several different theories about quantum physics that leading scientists have developed to explain the universe we live in. UFOs and everything related to them heads the list, and Jones goes into the background of UFO research, from Project Sign to Project Grudge to Project Blue Book. Alien abductions are mentioned, missing time incidents, and sightings from around the world. No, it's not just drunken hill folk or nut jobs who have claimed to have had otherworldly experiences with UFOs - governments from ours to the British and Russians have all given UFOs serious consideration. After all, if there really are technologically advanced alien beings, it'd be good to find out their intentions, and, if possible, enlist their aid. As Marie D. Jones writes:

United States Senator Barry Goldwater, while in office no less, repeatedly called for serious inquiry into UFOs labeling the subject "above top secret." Even the father of modern rocketry, Dr. Hermann Oberth, would express his conviction that UFOs were extraterrestrial vehicles of high technical design.

Ghosts, poltergeists, ESP, are covered in an encapsulated form, and energy vortices, strange electromagnetic zones, vile vortices, and the Bermuda Triangle are just a few of the other subjects Jones writes about. It is refreshing that the author does not make, despite some of the subjects discussed, any claim that she is presenting a final, definitive word on any of the paranormal phenomena that is the basis for much of PSIence. She mentions the books of some debunkers, for instance, such as the book The Bermuda Triangle Mystery—Solved by Larry Kosche. I own this book myself and like it quite a bit.

The exploration of quantum physics is, to me, the best part of PSIence. Much of the information on paranormal phenomena I had already learned of from other sources. But the author does present a very good overview of these phenomena and a necessary one, at least to some degree, to later show that the theories of quantum physics can allow for these phenomena to be a part of our realities rather than to try to disprove or discredit them. PSIence is a well-written and well-researched book that deserves a wide readership and should be on the bookshelves of everyone interested in paranormal phenomena, not to mention quantum physics. Is it the final word on paranormal phenomena? Does it definitively prove these phenomena exist? No, and no. But it goes a long way towards suggesting that the "laws" of reality allow the possibility that these phenomena exist.

Are you a skeptic? Get PSIence; you may find your mind opened up by the information it presents. Are you a "true believer" in all things paranormal? Also get PSIence. It will be a welcome addition to your library and a book that you will want your skeptical friends to borrow.
---