History, Haunts & Legends
April 10, 2010 Saturday - History Haunts and Legends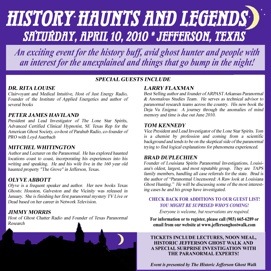 Event Location: 305 E. Austin Street at the Transportation and Visitors Center

Come listen to best selling author, and President of ARPAST  Larry Flaxman speak at the History Haunts & Legends Conference in historic downtown Jefferson, Texas.
An exciting event for the history buff, avid ghost hunter and people with an interest for the unexplained and things that go bump in the night!
There are going to be some awesome speakers this year! Be sure and reserve your ticket as soon as possible!
SCHEDULE

8:30-9:45 - Sign In / Packet and Name tag Pick up

10:00 - MITCH WHITINGTON Author and Lecturer
"TAKING THE HEAT OFF OF PARNORMAL INVESTIGATIONS"

10:45 - BRAD DUPLECHIEN and BRANDON THOMAS Founders of Louisiana Spirits
"Paranormal Uncensored: A  Raw look at Louisiana Ghost Hunting"

11:30 - LARRY FLAXMAN Author and Lecturer /Founder of ARPAST
"SCIENCE AND THE PARANORMAL, WHEN WORLDS COLLIDE"

12:30 - LUNCH BREAK / BOOTH VISITATION (food will be catered in)

1:15 - OLYVE ABBOTT  Author and Speaker
"COASTAL GHOSTS" AND A DEMONSTATION OF "GRAVE WITCHING"  A TECHNIQUE USED IN LOCATING ABANDONED GRAVES

2:00 - JIMMY MORRIS Host of Ghost Chatter Radio & Founder Texas Paranormal Research
"REAL TIME SPIRIT COMMUNICATION" "GHOST BOXES"

2:45 - 15 MIN BREAK/ BOOTH VISITATION

3:00 - PETE HAVILAND AND TOM KENNEDY Lone Star Spirits / Parahub Radio
Presentation on" The History and Haunting's of The Presido LaBahia in Goliad

3:45 - DR. RITA LOUISE Clairvoyant, Medical Intuitive, Host of Just Energy Radio

4:30 - WINE AT THE PRIDE HOUSE
Mike McCaskill with Upshur Paranormal will be giving stories of evp
recordings and investigations from the Pride House & Waverly Hills

5:15-5:30 - Daytime activities end on your own until 8 P.M.                            

8:00 - Historic Jefferson Ghost Walk
Corner of Austin and Vale Street next to the Jefferson Hotel

9:30 - Night Time Investigations
---