History Haunts & Legends
November 7th, 2009 Saturday - History Haunts and Legends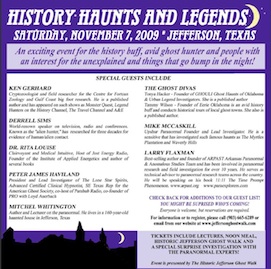 NEW: Photos from the event are posted in our
Come listen to Larry speak at the History Haunts & Legends Conference in historic downtown Jefferson, Texas.
An exciting event for the history buff, avid ghost hunter and people with an interest for the unexplained and things that go bump in the night!
8:30 - Registration / Sign In / Packet Pick up
9:45 - Welcome
10:00 - Mitch Whitington "Shadow People" Author / Paranormal Speaker
10:45 - Larry Flaxman " 11:11 The Time Prompt Phenomena" The Meaning behind Mysterious Signs, Sequences, & Synchronicities.
11:30 - 15 Minute Break
11:45 - Derrell Sims "They Came while you slept" - Evidence of Alien Abduction
12:30 - LUNCH / BREAK
1:15 - Ken Gerhardt  "Searching for Bigfoot"
2:00 - John Cappell, Visionary, Psychic, Medium
2:45 - Pete Haviland and Tom Kennedy "Poltergeist Phenomena" 
3:30 - 15 Minute Break
3:45 - Dr. Rita Louise "Ghost,  Spirits and all things that go bump in the night"
4:30 - Tonya Hacker and Tammy Wilson "How Not to be a Ghost Hunter"
5:00 - Mike McCaskill "Searching for the truth in Paranormal Activity"
5:30 - Daytime Activities Will Conclude
8:00 - Night Time Activities Begin

The night time activities begin at 8:00pm with the Historic Jefferson Ghost Walk. Immdiately following the Ghost Walk Tour, the special investigations will begin at two surprise locations.
For more information, please click here.
NEW: Photos from the event are posted in our
---