Dr. Shuker's Casebook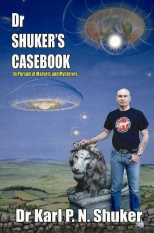 Title: Dr. Shuker's Casebook
Author: Dr. Karl P.N. Shuker
Reviewed by: Nick Redfern

Just recently, fellow-author and seeker-of-the-strange Karl Shuker asked me if I would write the Foreword to his new book, Dr. Shuker's Casebook, and to which I quickly answered "Yes!"
Well, I can tell you that Karl's new book is one not to be missed - at all. The official publication date of the book is this Saturday; however, I figured I'd go ahead and give Karl's book the publicity it deserves a couple of days early.
And the best way to do that is to copy below for you my Foreword to the book that will give you a good indication of the many and varied accounts contained therein.
So, here it is, my Foreword to Dr. Shuker's Casebook:
Whether it's due to the fact that we both hail from England's mighty and majestic West Midlands, or simply that he is a damned good researcher and writer (or both!), I always look forward to a new book from Karl Shuker; and this one most definitely does not disappoint.
And so when Karl asked me if I would write the Foreword for his new book, I quickly said that yes, indeed I would. Whereas pretty much everything Karl has published so far has been on cryptozoology and weird and wonderful animals, Dr. Shuker's Casebook is a little different. Yes, it is full to the brim with tales of strange beasts; however, Karl also delves into other areas of Forteana with which he is not generally associated.
So, what do you get for your hard-earned pennies? Well, I will start with those highly unusual, and almost legendary, winged cats. Karl provides excellent historical background on these unusual critters, carefully separates fact from fiction, and legend from reality, and gives the reader a fine study of this peculiar phenomenon. Even if you're only vaguely familiar with the winged-cat controversy, this is one you won't want to miss.
And what, I hear you ask, about the mystery animals of Senegambia? Encompassing hairy man-beasts, giant bat-like entities and much more, they collectively make great food for thought as Karl reveals the strange stories of some little-known and elusive beasts of a distinctly exotic and far-off land.
Sky-Beasts is an excellent chapter and one that addresses the theories of researchers such as Trevor James Constable, who suggested the idea that bizarre life-forms might very well soar high in the skies above us, and may perhaps be responsible for at least some UFO reports. Today, Constable's theories are sadly forgotten by many within Ufology, and so it's highly refreshing to see Karl turn his attention to a subject and a theory that perhaps has implications for both the UFO controversy and cryptozoology.
Merfolk – strangely humanlike entities that are said to roam the world's oceans and seas - also feature prominently in Karl's book. Of course, any mention of mermaids inevitably provokes furious debate. Fortunately, Karl knows a great deal about this topic and is able to discuss the matter in a fashion that both informs and intrigues. As for how the mysterious Aquatic Ape fits into this story, well…I'll leave that up to you to find out.
The famous "Green Children" of Suffolk's Woolpit also come under the Shuker microscope, something that leads to such questions as: were they feral children, the denizens of the fairy world, or – if such a thing were possible – something even stranger?
Tulpas – creatures of the mind, thought-forms, or however you want to term them – are a particular obsession of mine. And to see that Karl has devoted a whole chapter of his book to this particularly controversial topic was a fine surprise for me. If you ever mused upon all the fuss that the Tulpa issue provokes, Karl provides the perfect study of the subject, and a look at some of the more significant tales of a distinctly mind-monster kind.
Flying humanoids such as Batsquatch, Mothman, Owlman, Britain's little-known Monkey-Bird, and the Flying Man of Russia also have pride of place. The thorny (or should that be horny?) issue of unicorns is dissected, as are frog-falls, ball-lightning, will o' the wisp, earthquake lights, various other aerial puzzles, and ghosts and specters.
Then there are those weird messages from space: manuscripts, papers, artifacts and even Joe Simonton's famous faerie pancakes. Doppelgangers: they're here too; as are the mysteries of Easter Island, the wonderfully-named Vegetable Man, the Monster of Glamis, and menacing, spectral werewolves.
In other words, Dr. Shuker's Casebook is a fantastic and rich collection of oddities that will fascinate everyone with a thing for Forteana. And now, turn the page, turn off the lights and by the flicker of an old candle and a full moon, enjoy the book!
---